Alliance High School held the Spring Athletic Awards ceremony on Thursday, May 26. The following are the recognitions the athletes received.
Congratulations to the following for receiving EBC Honors!
EBC Players of the Year
Blake Hood - Tennis
Brendan Zurbrugg - Track & Field
EBC First Team
Baseball - Ryan Bruni
Softball - Cameryn Mullaly, Emma Reese
Tennis - Blake Hood
Track & Field - Kayden Davis, Nino Hill, Movie Jones, Tylon Miles, Cavail Nicholson, Squirt Williamson, Brendan Zurbrugg
EBC Second Team
Baseball - Eric Bennett, Ty Young
Softball - Brianna Yoder
Tennis - Landon Blevins
Track & Field - La'Kasja Edwards, Emmerson Frank, Bella Guappone, Avery Horning, Carter Lewis, Tyion Miles, Caden Nicholson, Ella Smith
EBC Honorable Mention
Baseball - Michael Blackwell, Curtis Taylor
Softball - Reese Grisez, Megan Hippely,
Tennis - Donovan Romeo
Track & Field - Mallory Chunat, X'nai Hatcher, Jaezen Lewis, Jordan Schwartz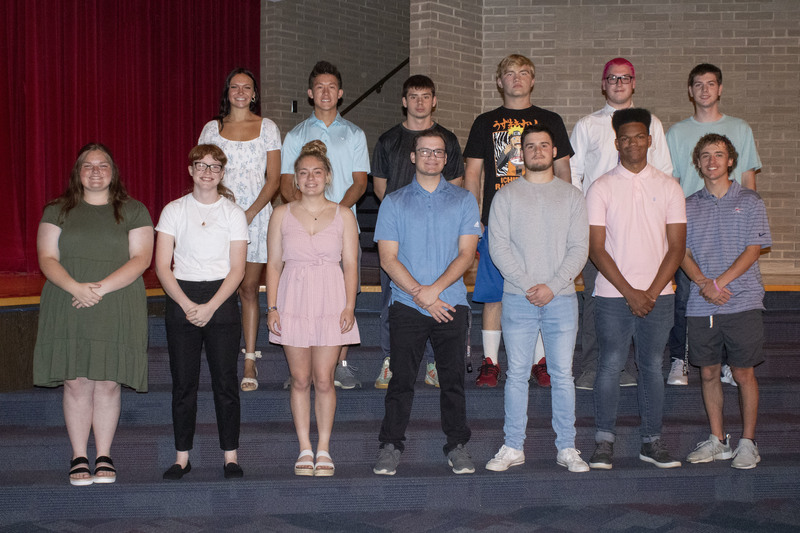 Congratulations to the senior athletes for the fall season!
Baseball
Tremar Battle, Brennan Bell, Gage Berlin, Brayden Blatt, Curtis Taylor, Ty Young
Softball
Haylee Bruce, Reese Grisez, Lexi Sedei, Shyanne Yeager
Boys Tennis
Blake Hood, Latray Porter
Track & Field
Robbie Beckley, Mallory Chunat, Trevor Collage, Stephen Gales, Cade Ulbricht
Congratulations to the following students for earning a spot on the Scholar Athlete list by earning a Varsity letter and a 3.4 GPA or higher during the most recent quarter.
Baseball
Brennan Bell, Dylan Bell, Eric Bennett, Gage Berlin, Rome Biggers, Carter Bugara, K'Vaughn Davis, Austin Trusty, Brendan Zurbrugg
Softball
Brooklyn Campbell, Lydia Clair, Reese Grisez, Cheyanne Hendershot, Megan Hippely, Cameryn Mullaly, Emma Reese, Shyanne Yeager, Brianna Yoder
Boys Tennis
Landon Blevins, Mack Heslop, Blake Hood, Luke Poindexter, Jayson Reed,
Track & Field
Robbie Beckley, Olivia Bertolini, Jailyn Billings, Mallory Chunat, Trevor Collage, Seth Dillon, La'Kasja Edwards, Anna Eversdyke, Brooke Fiegenschuh, Emmerson Frank, Bella Guappone, X'nai Hatcher, Avery Horning, Rylee Horning, Ovie Jones, Mady Lake, Jillian Lohnes, Tyion Miles, Kellynny Paaloalo, Tabitha Poindexter, Bridgette Runion, Jordan Schwartz, Abie Thomas, Rylan Thomas, Cade Ulbricht