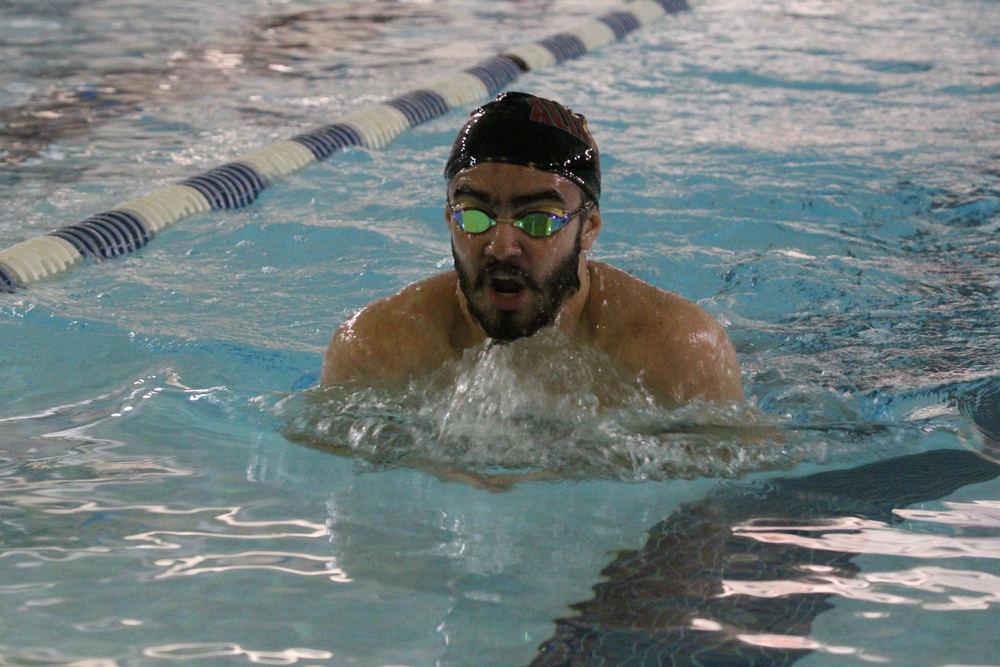 Rose Holds All Records
By RAMSEY REITH - Red and Blue Staff Writer
Monday, January 27, 2020
Following the Jan. 10 meet against Marlington and McKinley, senior Will Rose now holds every swim record in Alliance High School's history.
That day, his time was 1:01:31 in the breast stroke. That broke the previous record of 1:04:49 held by Sam Rodman '14 then Jared Watson in '17.
The other record broken that day was for the boys' 200 medley relay. In that case, Rose shared the honor with teammates Patrick Burse, Ryan McKnight and Tommy Gress.
Two days later, the team broke that record with a time of 1:44:92 which was 2.6 seconds faster than their record Friday night.
The four swimmers originally broke the 30-year-old record held in part by their assistant coach, Mike Bugara. They have continued to break their own records since.
Rose plans to swim at Arizona State University next year, and says his current records are only the beginning.
"It feels good to have every record at AHS for swimming," he said. "It flatters me all the congratulations I get from my team and everyone I know."
"It's only the beginning for me as I head to Arizona State University and try to break records there," he added. "But overall, it feels great."
Head Coach Marikay Kuntzman said he and the entire Aviator team has made her proud this season.
"This swim team is very special right now," she said. "I'm proud of this team. I really am."
The following Aviators took first place in these events during the Alliance-Marlington-McKinley meet:
200 Free: Will Rose
200 IM: Tommy Gress
50 Free: Patrick Burse
100 Butterfly: Bergan Rhome
100 Free: Ryan McKnight
500 Free: Tommy Gress
200 Relay: Michael Shields, Will Rose, Patrick Burse, and Ryan McKnight
100 Backstroke: Bergan Rhome
100 Breaststroke: Will Rose
400 Relay: Tommy Gress, Bergan Rhome, Michael Shields, and Ryan McKnight
Alliance was able to sweep the meet and defeat Marlington and Canton McKinley.