Back At It With The Beats
Jon Smith
Pride of the Sky
Back At It With The Beats
By ZAVIONA FOUNTAIN
Red and Blue Editor
The Alliance Aviator Marching Band started off the year with 130 members. With such a large number, there is a lot of responsibility and potential for great performances, which has been proven throughout the season in band shows, parades, and football games.
Under the direction of Shaun Fontaine, Thomas Roblee, and Heather Shive, the band began preparing for their season at the end of June. The band members learned an appropriate marching style, and also learned how to march and play at the same time. It's known to be a rough start, but with the amount of effort and hard work they put in, band members improved quickly.
This the band has performed in the Hall Of Fame Parade, Carnation Days Grand Parade, Martin Luther King Jr. Parade, Stark County Fair, Massillon Band Show, as well as the Mount Union Band Day. Sadly, they were unable to participate in the Lake Band Show for the second year due to rain.
This year's halftime show for home football games included "(Don't Fear) The Reaper," "Blues Brothers Medley," and the classic by Queen, "Bohemian Rhapsody." Later in the season came "Working For The Weekend" and "Never Gonna Give You Up."
The Marching Band Concert was Oct. 25. If you weren't there you missed a great performance.
"I think it has been an exciting season," said Director Fontaine. " The band worked hard and did their absolute best all the time. I am excited for next year."
"The season went so unbelievably well and every performance was awesome!" said senior Vanessa West. "I'm so sad it was my last marching band season, but I enjoyed it so much and I'll miss it a lot."
"This was the best season ever in my high school career. I feel like we left a lasting impression on our audience after every performance," said junior Madalyn Waggoner. "We are the Pride of the Sky and I am proud to be a part of marching band."
"This season was a very productive and positive year for the band," sophomore Giavonna Hill. "I enjoyed every moment of the season, including late Monday night rehearsals."
"Of my three years in band, this was my favorite because I got to lead the new members and I made so many great memories that I didn't experience other years," said junior Mackenzie Webb. "I definitely enjoyed it and I believe that next year will be even better."
The band worked very hard this season and we can't wait to see the outcome for next year.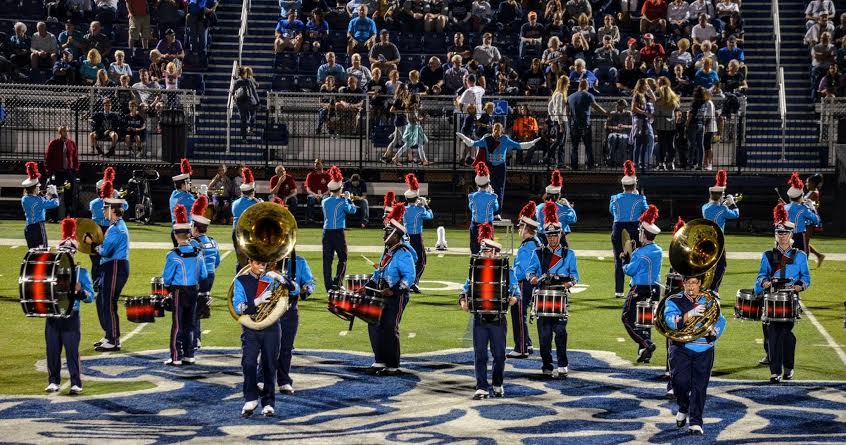 The AHS Band marches in formation under the direction of senior Vanessa West Photo by Sarah Maley