Students Meet Author of Murder Mystery
By ERIC DUNN
Red and Blue Staff Writer
Topping off the week for Alliance High students who had read his book, Allen Eskens spoke of his experience as the author of USA Today bestseller "The Life We Bury."
The 14th author in Alliance's One Book, One Community program, Eskens has published three novels. "The Life We Bury" came out in 2014, followed by "The Guise of Another" and "The Heavens May Fall."
Students who read the book include those in Mr. Chris Schillig's and Mr. Tom Wilson's AP classes, as well as juniors and seniors in Ms. Barbara Mudrak's English classes. Students also wrote essays about the book, some of which have been published in the Alliance Review.
The One Book One Community program is sponsored by the Friends of Rodman Public Library, the University of Mount Union, the Review, and the Greater Alliance Foundation. The foundation provided multiple copies of the book for students at area high schools.
Eskens talked of his desire to write and explore his creativity, intertwined with his 25 years as a criminal defense attorney. He recently gave up his law practice to become a full time author.
Eskins said he lacked ambition at a young age, content with continuing a family tradition of hanging drywall. When he entered high school, he took a theater class as an afterthought, and learned he enjoyed exploring his creative side.
Enrolling in the University of Iowa as a theater major, he eventually transferred to the University of Michigan to study journalism, and later law at Hamline University.
After getting his law degree, he entered a writing competition. Thus began a 20-year journey leading to the creation of his first book.
Despite being rejected by 150 agents, "The Life We Bury" was noticed by a new intern, who later became his agent and succeeded in getting the book published. The novel was a huge success, accruing literary awards and a nomination for the Edgar Award for best first book by an American author.
Eskens soon published his second and third books, which contain characters from the first. He has already outlined his next six novels, one of which comes out this fall. The six include a sequel to his first book, with main character Joe Talbert given a chance to grow up.
Today, "The Life We Bury" has been published in 20 languages. There's even a movie in the works, which Eskens tried to talk about without divulging too much information.
At the end of his talk, Eskens opened up the floor to questions. This led to discussions about the content of his novels and his writing process.
In a room full of students on the edge of adulthood, there was a great deal of interest in his talk. Whether or not they plan to be writers, they could all learn from Eskens' story of success.
Alliance High juniors Maria Sams and Alexis Orzo pose with author Allen Eskens and two of his books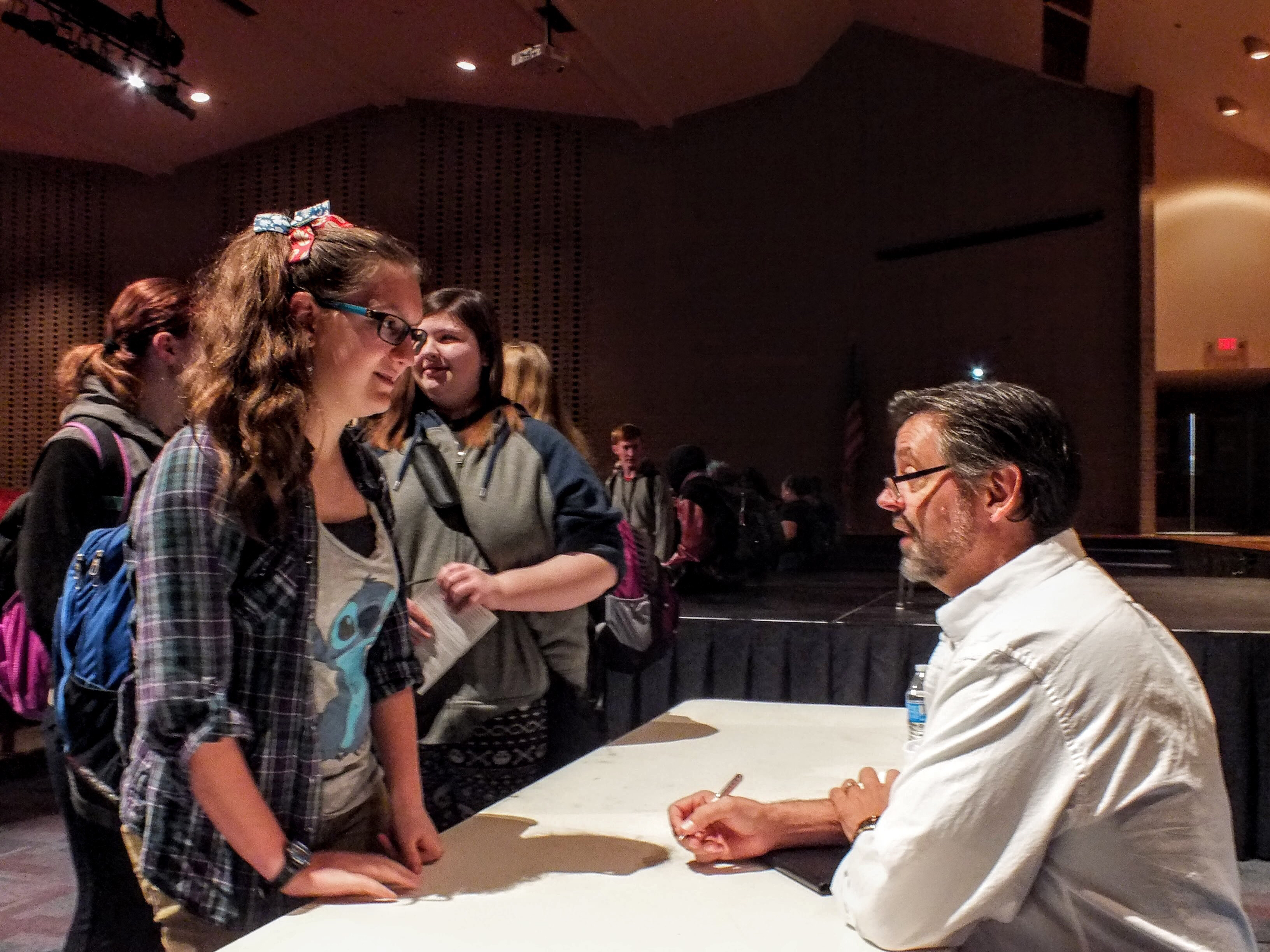 Cierra Roller, a senior AP student, talks to author Allen Eskens about writing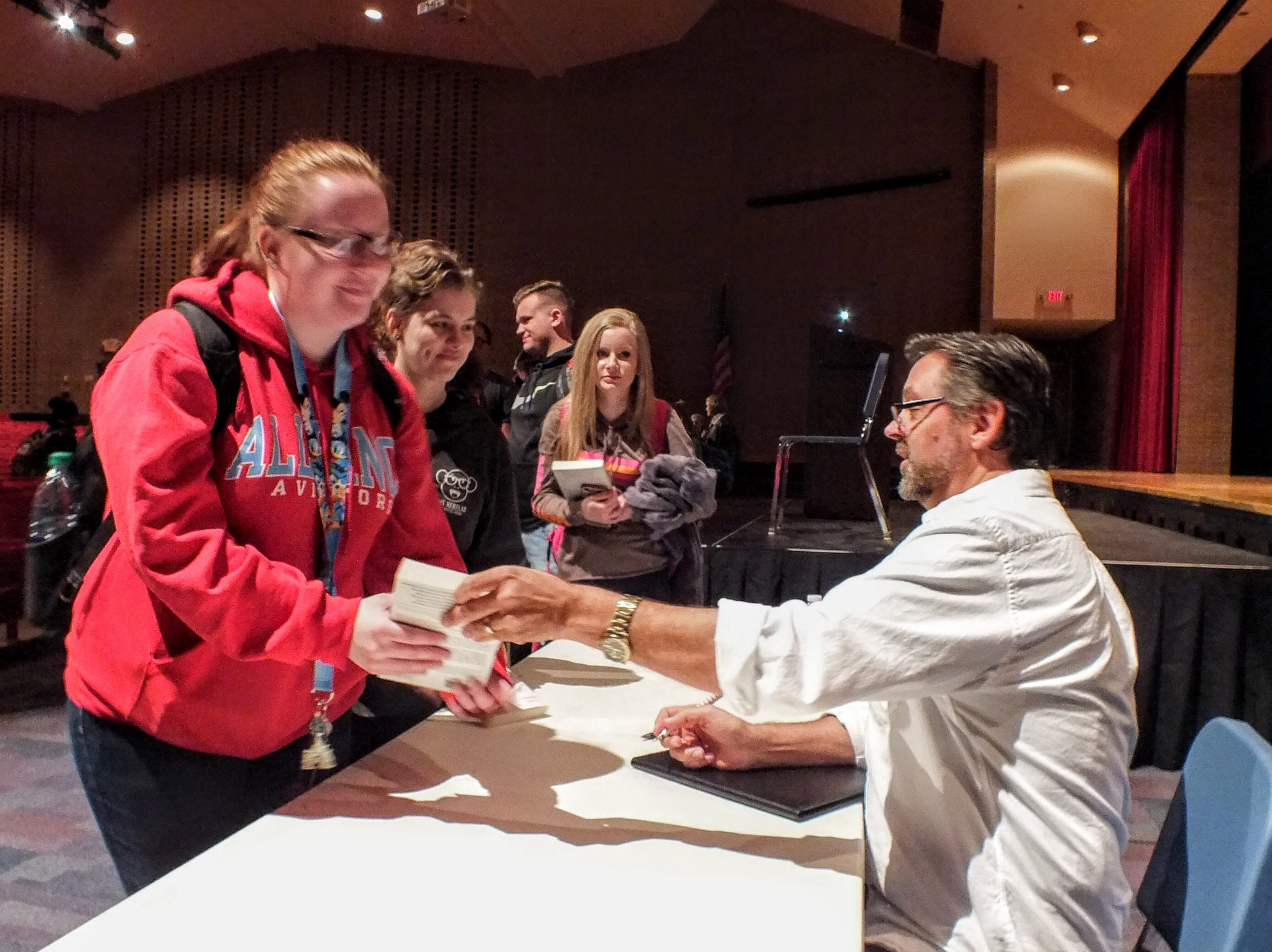 Senior Casey Bluhm gets her book signed by author Allen Eskens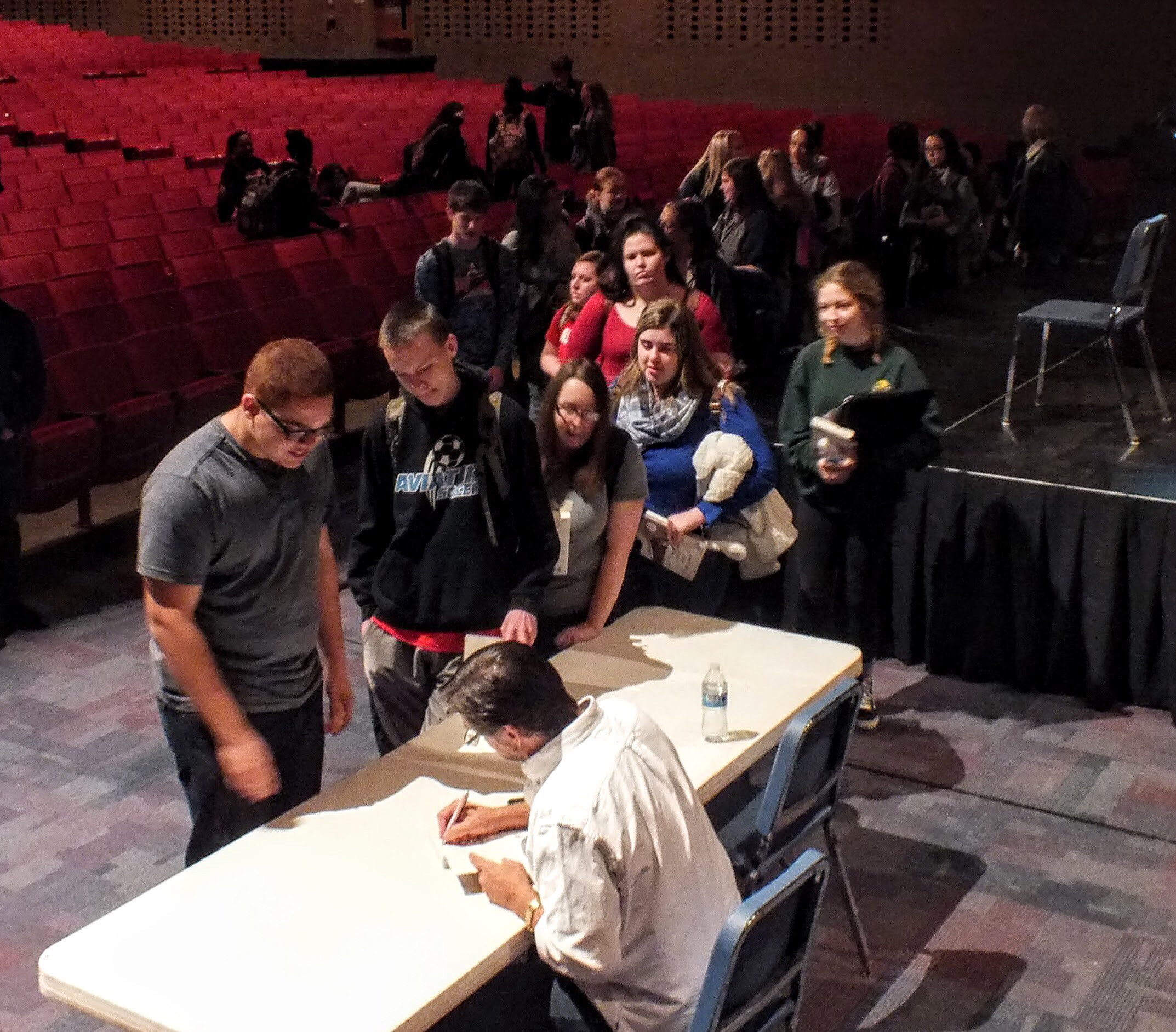 Students lined up to get their copy of "The Life We Bury" signed by the author. Allen Eskens is the 14th author to visit Alliance High through the One Book, One Community program.