​It's Not the Win But the Loss
Jon Smith
Story by LAUREN SNYDER, ERIC DUNN, ALLIE COX and RED AND BLUE STAFF
Photos by DREW LEAGUE, JACK EVANS and BARBARA MUDRAK
For the fourth straight year, the faculty team won the annual staff-student volleyball game at Alliance High.
But it was what some teachers lost between games that was most important.
Eight staff members volunteered to get their heads shaved: Stephanie McKnight, Kim Woodruff, Chris Schillig, Liz Davis, Jay Lietzow, Dan Oberhauser, Robb Quicci and Crystal Sabik. Each had websites encouraging contributions to St. Baldrick's, a non-profit organization that raises money for childhood cancer research.
They were given a choice to have their heads partly shaved, get a buzz cut, or submit to a "0" meaning down to the scalp. All chose 0.
"We get a choice," said Woodruff, who organized the Brave the Shave event. "The kids with cancer don't get a choice."
McKnight, who spearheaded the fundraiser, said she pictures a little girl named Jette from Salem, who lost her hair after treatment for a glioblastoma tumor.
"So for me it's for all the little girls who don't get to keep their hair," she said.
McKnight added that her son, Ryan, wondered if she was crying on the way to school because she was afraid to get her head shaved.
"No, I'm crying because I'm so proud of what we've accomplished," she told him.
About $11,000 was raised in the Alliance project, more than $5,000 at AHS and the rest at community events and online. There will still be other events, and the teachers' St. Balldrick's websites will remain active. The goal of the Alliance project is $18,000.
St. Baldrick's Foundation began in 1999. More than 300,000 children are diagnosed with cancer every year, but there have been only three new drugs approved to treat childhood cancer in the past 20 years. Less than 4 percent of the National Cancer Institute's research budget is dedicated to finding cures for childhood cancer.
The fund-raising activities at the school were many and varied. Auto Tech and Auto Body students conducted car washes; Sports Medicine and Premedical Professions students sold first-aid kits and wristbands; National Honor Society members had raffles for gasoline cards; Key Club members had Change for Change collection jars; Media Arts students had a game night at Carnation Mall; Interactive Media students had a photo booth at the winter homecoming dance; Welding students made grill grates for the Alliance Parks Department; Culinary Arts students sold $1,000 worth of chocolate-dipped pretzels, and Cosmetology students did hair and spa appointments for students and staff.
Students also entered a raffle for the privilege of shaving their favorite teacher's head. The winners were Bryan Nicholson (Mrs. Davis), Brendan McGeehen (Mrs. Woodruff), Tony Young (Mr. Schillig), Joe Thompson (Mr. Lietzow), Maddie Waggoner (Mrs. McKnight), Amelia Holt-Hoskins (Mrs. Sabik) and Tramar Middleton (Mr. Oberhauser).
In addition, Orange Leaf and Buffalo Wild Wings had fundraiser nights. The main fundraiser for Buffalo Wild Wings will be April 30.
The volleyball game started with the seniors ahead, but the staff made a big comeback, winning the first game by a wide margin.
The reverse happened in the second game. The staff started out with a major lead but took a 24-26 loss to the seniors.
The tiebreaker game would go to the first team that scored 15 points. The staff won it handily, 15-7.
The staff team was supported by faculty cheerleaders Donna Hall, Ingrid Risden, Kelly Trout and Nancy Holub.
"It was fun having one last game with the seniors," said 12th grader Essence Blue. "But we should've won."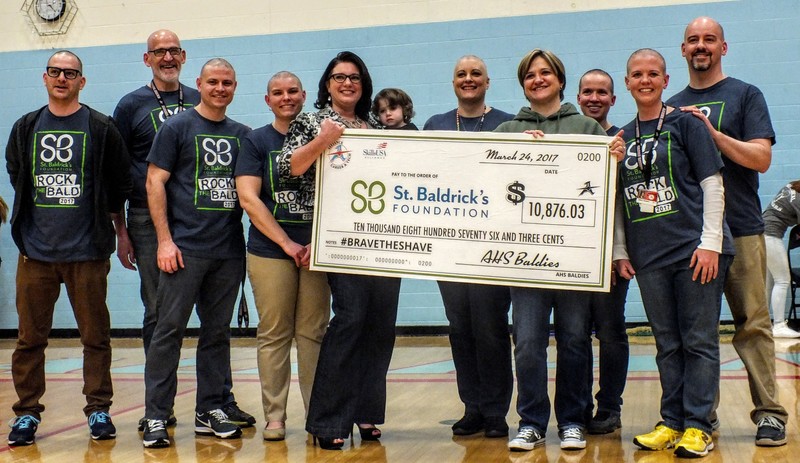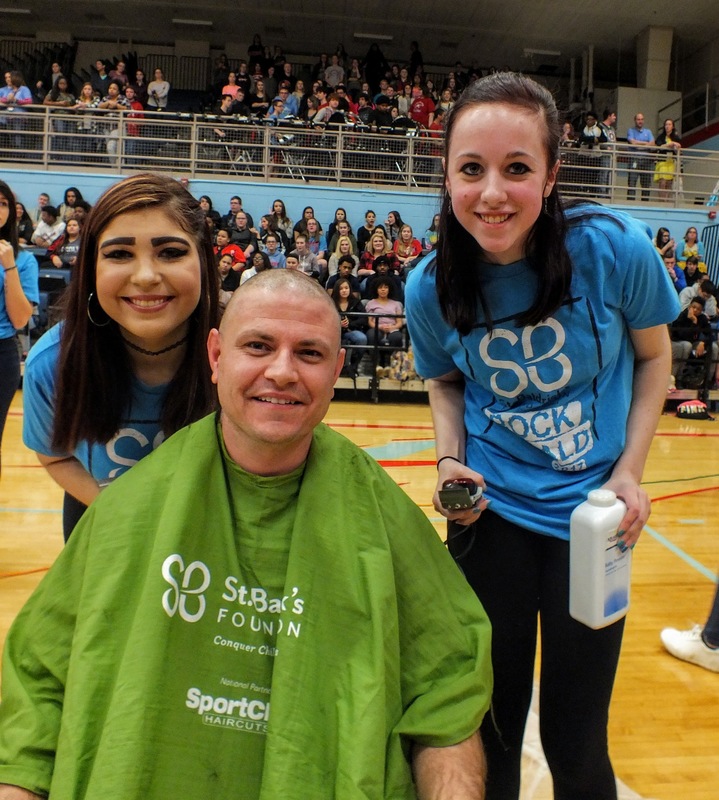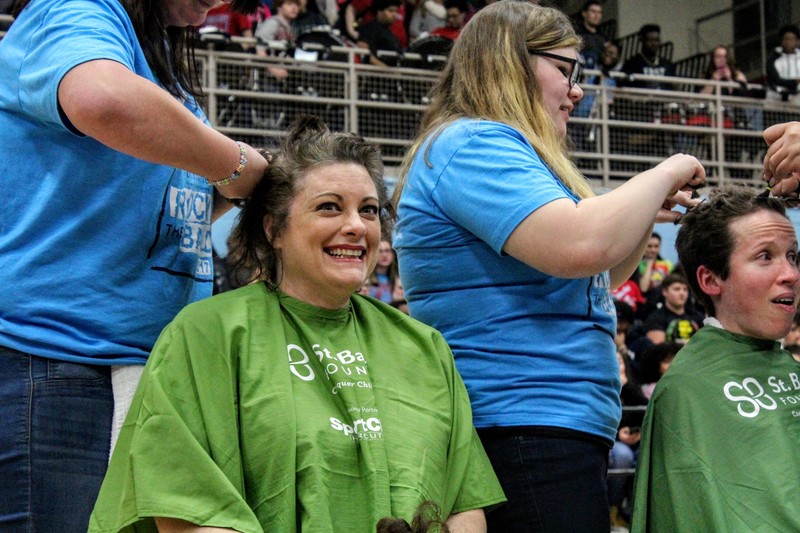 .