​Science Alliance Sends 18 Projects to District Fair
Jon Smith
Science Alliance Sends 18 Projects to District Fair
Story by ALLIE COX, ERIC DUNN and DELILAH CRUM Red and Blue Staff Writers
Photos by ABIGAIL ARNOLD and BARBARA MUDRAK
Nearly 100 Alliance High and Middle School students participated in Science Alliance on Feb. 10 at the high school. Of the 52 projects presented, 18 received a rating of Superior, entitling those students to compete in the District 13 Science Fair at the University of Mount Union on March 11.
There were many fantastic projects and all the participants worked very hard. Some of the projects had interesting titles, and their results could possibly be put to practical use.
Seth Stevens, a sophomore, was "Messing with Methane." He found that among the food groups he tested, starchy foods produced the most biogas.
Junior Samuel Denny found that people are more prone to remember what they read if it is in a bolder, bigger typeface.
Sophomore Siearra Nagle found that the fruit in supposedly healthy smoothies contains a surprising amount of sugar, with strawberries having the most.
Junior Erika Shi had a very specialized experiment. She determined that pointe shoes harbored the most amount of bacteria among the different types of ballet shoes.
The students competed either individually or in teams of up to three. The students' projects were judged on originality and creativity, use of the scientific method, knowledge, clarity, and teamwork.
The projects were awarded ratings of Superior, Excellent, Good, or Satisfactory. The 18 projects that earned a Superior were judged again for special awards in their categories.
Juniors Zaviona Fountain, Anazhia McBride and Aryah Buckmon won best in the Behavioral Science category for their project "Comfort Zones."
Juniors Howard Frazier and Brendan McGeehan won the Engineering award with "The Science of Bridges."
Sophomore Leeah Dulaney won the Medicine and Health category for her project, "The Nose Knows Smell, But How About Taste?" Sophomore Allison Waggoner won the Physics Award for her project, "Measuring Force Through Deep Knee Bends."
Alexandra Cox, also a sophomore, won the Environmental Science award for her project "Can the Use of Native Prairie Grasses along with Cow Manure Compost Decrease Soil Erosion and Maintain Carbon Sequestration in Soil?" Her project won the won the High School Best in Show award.
The Biochemistry award went to 7th grader Jane Miller for her project called "Mello Jell-O." She found found that detergents containing enzymes and surfactants were most effective in removing those stubborn stains. Miller won the Middle School Best in Show award.
The team of 7th graders Allena Bertram, Caroline Denny, and Hanna Mazzei won the award for Chemistry with their project "Temperature's Effect on the Efficiency of a Fuel Cell."
Students who compete at the District fair have the opportunity to earn a Superior rating again and compete at the state science fair at the Ohio State University. Both fairs provide the chance to win various awards and scholarships.
Good luck to all participants!
Alexandra Cox won both the Environmental Science award and the High School Best in Show award for her project "Can the Use of Native Prairie Grasses along with Cow Manure Compost Decrease Soil Erosion and Maintain Carbon Sequestration in Soil?"
Sophomore Leeah Dulaney won the Medicine and Health category for her project, "The Nose Knows Smell, But How About Taste?"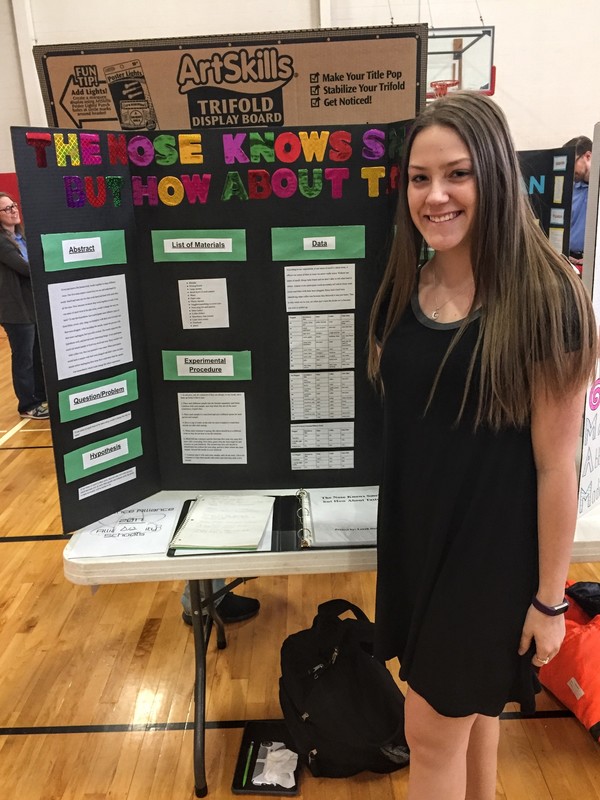 Brendan McGeehan explains his project to judges. He and Howard Frazier won the Engineering award with "The Science of Bridges."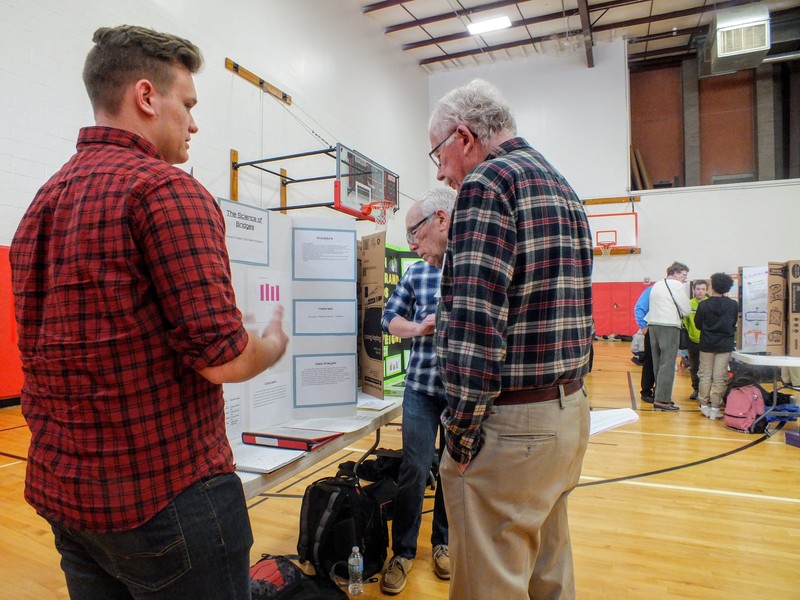 Sophomore Allison Waggoner won the Physics Award for her project, "Measuring Force Through Deep Knee Bends."
Juniors Zaviona Fountain, Anazhia McBride and Aryah Buckmon won best in the Behavioral Science category for their project "Comfort Zones."