Success Starts with Gratitude
Jon Smith
Success Starts with Gratitude
Tressel Gives Advice for Life
By ERIC DUNN
Red and Blue Staff Writer
PHOTOS by TERESA WOERTHER, WILL BOEHM, and ALIVIA WILLIAMSON
At an all-school assembly Monday, former Ohio State Buckeyes coach Jim Tressel delivered his steps to success to Alliance High School's students and staff.
Tressel, who is currently president of Youngstown State University, coached the YSU Penguins from 1986 to 2001, when he became head coach at Ohio State University. He coached the Buckeyes for nine years, winning 94 games, seven Big 10 championships, and the national championship in 2002. He was inducted into OSU's athletic hall of fame and into the College Football Hall of Fame.
His methods for success in coaching and administration bled into his speech. There wasn't much talk about what exactly he accomplished, but more about how.
Speaking to a room full of students and faculty, his words carried weight. He spoke of what made himself and his teams so successful, and what he believed to be the keys to their triumphs.
He said it starts with gratitude.
"At YSU, we would always begin our day reminding ourselves how fortunate we are," he said. "We've been fortunate to have teachers who care about us, parents to prod us, various things in the community that are in place to give us the opportunities we have. It's good to remind ourselves how lucky we are."
Under his coaching, every player was encouraged to think of the greater good rather than just himself.
'Our definition of success was simple: The inner satisfaction of knowing I did the best I could possibly do for the group, the team, the university, the town, the region," Tressel said. "We measured success on how close we were to reaching our full potential on behalf of one another."
He went on to list four steps for success in life: 1. Dreaming and setting goals 2. Working hard to achieve those goals 3. Dealing with the ups and downs 4. Believing in yourself.
Tressel continued with a few tips more specific to high school students.
"In 38 years as a coach and five as an administrator, I've observed that people who do these things are successful in life," he said.
Tip No. 1 is surrounding yourself with good, caring people who have similar dreams and goals and who will help you make good decisions. No. 2 is getting involved in activities both at school and in the community.
"Employers want people with job skills, but they also want people who know what it is to be part of a team, who have a variety of experiences," he said.
His last tip was to pursue more education after high school, but to avoid going into debt. Good grades lead to scholarships that don't have to be repaid. If students must get loans, "read the fine print. Graduate with as little debt as possible."
He left the audience with a good impression - and some cash. Calling for volunteers, Tressel asked if they could recall one of the main points of his talk. Those who could received $2.
Finally it came down to who could remember his four main points and three tips. Sophomore Emilly Swonger walked off with the $10 bill.
Tressel managed to get across an inspiring message sparked by unique experience. The audience might not remember everything he said, but they certainly understood the ideas he was trying to convey.
YSU President Jim Tressel gives Madalyn Sibble $2 for her correct answer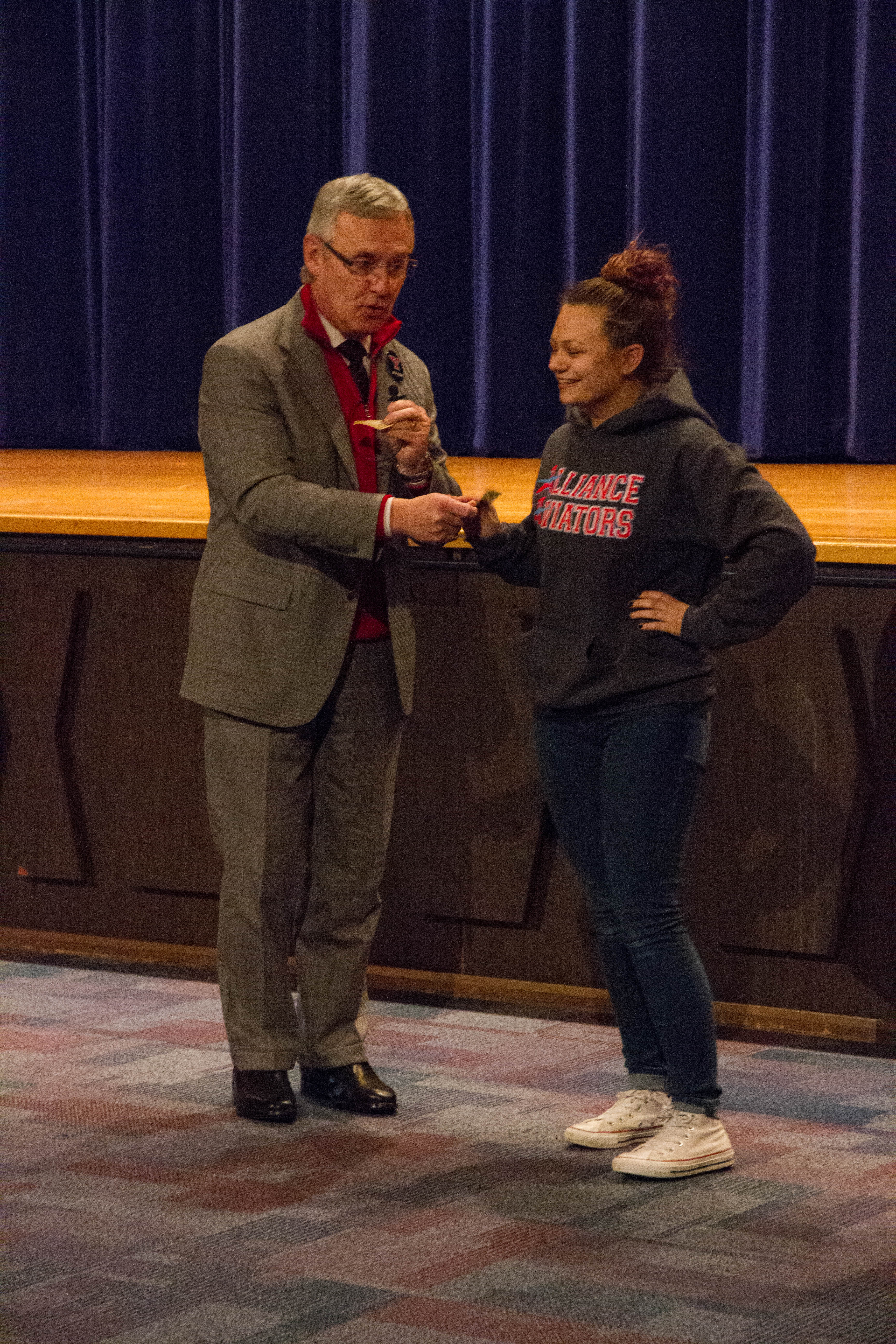 Jim Tressel rewards sophomore Emilly Swonger for naming all of his tips for success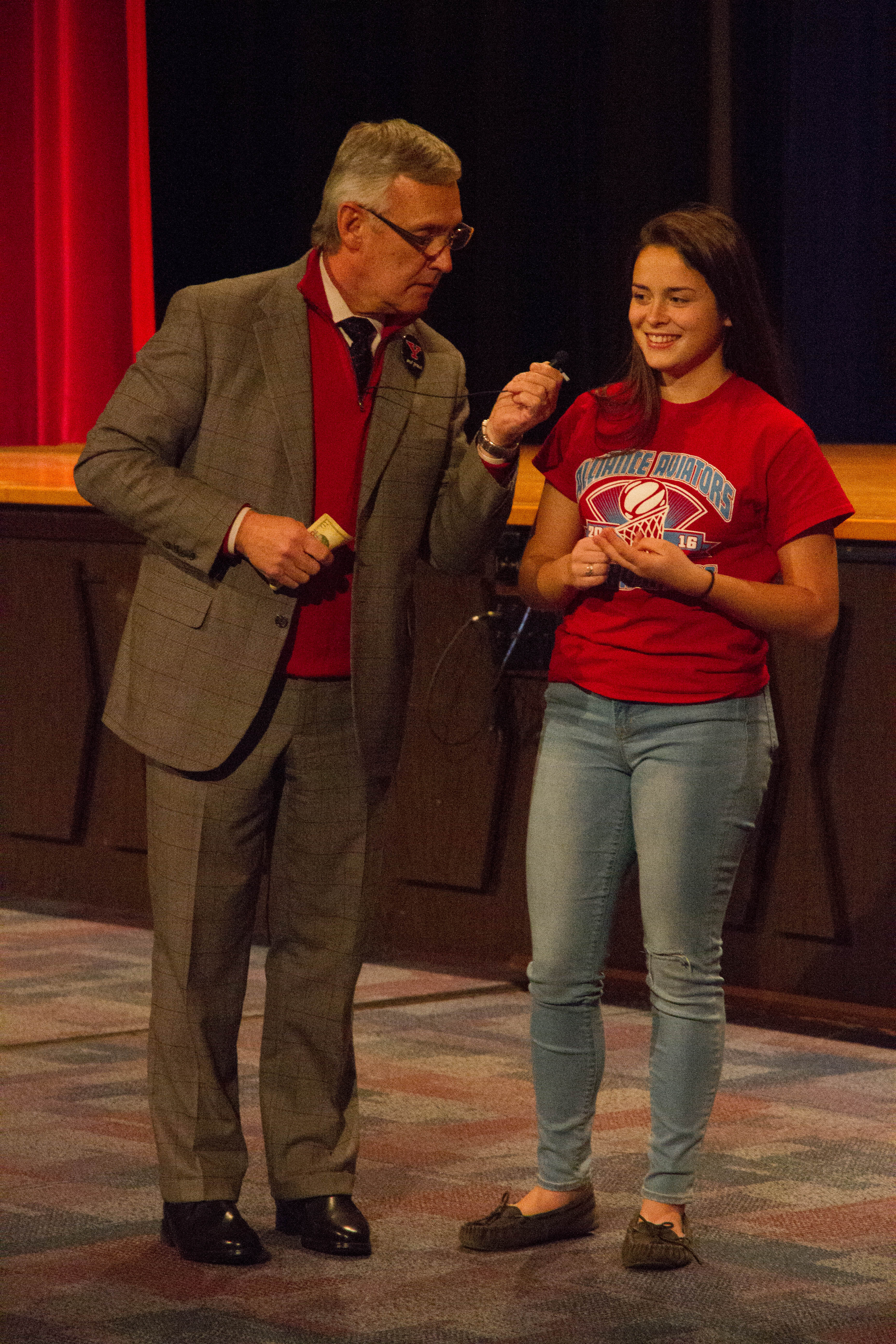 Jim Tressel quizzes junior Brett McDermitt during the assembly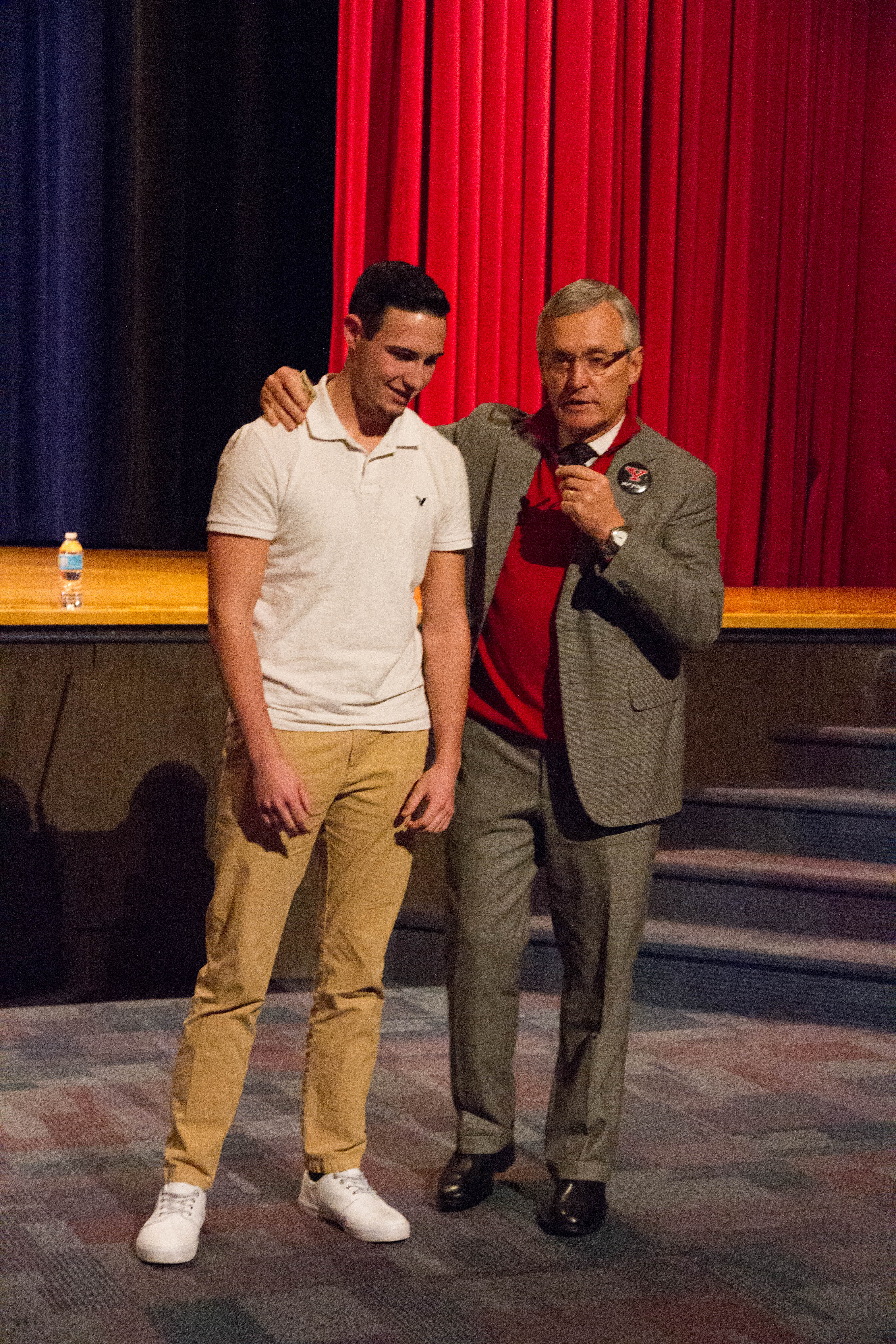 Jim Tressel asks Emilly Swonger if she can remember all seven tips and goals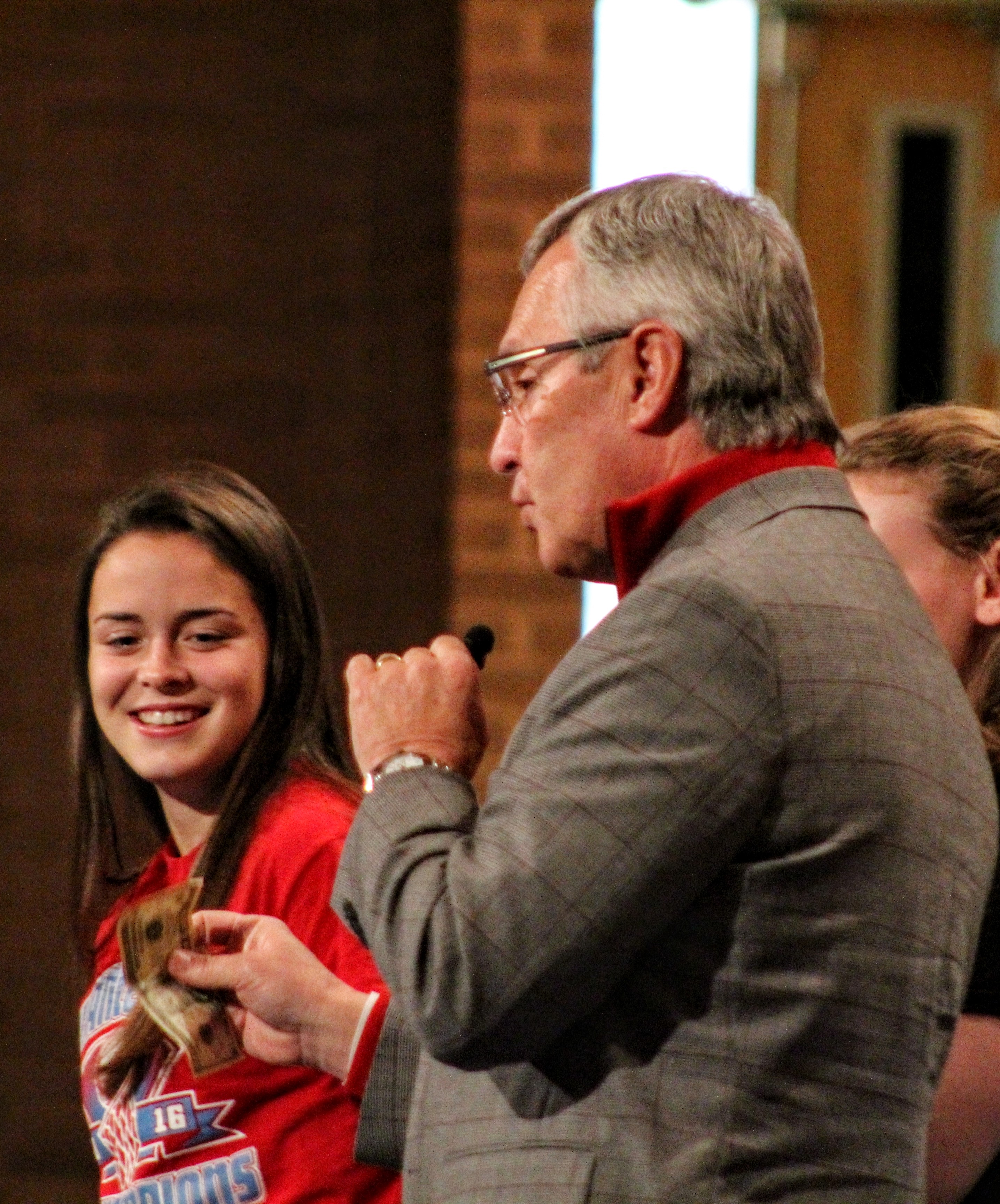 Jim Tressel speaks to an AHS assembly about how to succeed in life